We are professional! reliable! on time!
Are you in need of translation/interpreting services? You can count on us!
You can place your order with us in a comfortable and safe way.
All you need is to place an order. We will take care of the rest.
Welcome to the website of A&A Translation Agency!
Our agency is located in the very centre of Wrocław in Kazimierza Wielkiego Street. It was established in 2008 by a sworn translator of the English language. For 13 years, we have been offering professional services and top quality of fulfilled orders. Our development is of great importance to us - in April 2021, we opened a new branch in Jelenia Góra.
The numbers speak for themselves!
The statistics of our work are presented below:
Standard pages translated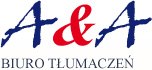 For years, we have been processing small and big orders with equal diligence. We cooperate only with the best and reliable translators/interpreters.
We guarantee complete confidentiality and safety of the entrusted documents. Our website is secured with an SSL Certificate.
We are willing to fulfil even non-standard orders, and still any type of translation is an exciting challenge to us.
We make every effort to fulfil the orders as quickly as possible because we value your time, and ours too.
When compared to other translation agencies and translators, our prices are attractive and competitive. A project coordinator ensures comprehensive processing of orders as well as a professional and free-of-charge quotation.
Our target is to provide you with the best quality, which is proven by the ever-growing number of our Clients. The translations prepared by our office are always subject to additional verification.
We can successfully complete significant projects, and the use of professional translating tools enables us to offer the texts which are coherent in terms of vocabulary and terminology.